UPDATE: Kim from Ribbies Clippies was passing through, so we just got the chance to visit and talk shop. Yup, she is just as sweet as I remembered.
Date: August 2007
Place: Minneapolis , MN
Target Headquarters
Reason: New Parent Inventors Meeting
I was a small fish in a gigantic pond. The owners of huge companies like Hooter Hider,
Baby Legs
, Moby Wrap all gathered together to share their goods. Sleek packaging, impressive sales numbers....and me sitting there with a
Wet Happened? bag
I had made the night before in my basement.
Talk about fear.
Thankfully, I met the owners of
Ribbies Clippies
. They just look nice, don't they?
Although they, too, had a great product with beautiful packaging, I immediately connected to
their story
. Two moms that had set out to make their baby's face stand out more than the hair accessory.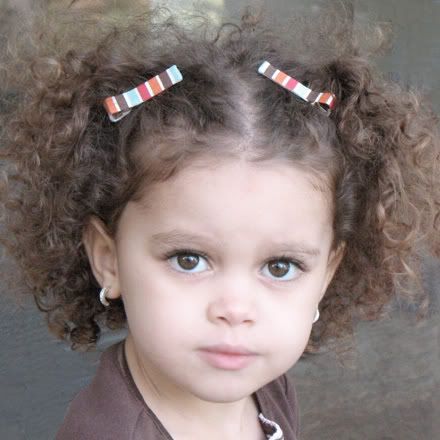 As I have grown to know this company, I am more and more impressed with just
how great
this little clip is. They have
hundreds of designs
, and are adding
new innovative products
all the time. Each offering has the same things in common- classic style, esthetically stunning. Modern and just....so not the plastic hair clips I used to wear.
They are taking a short break to relocate their offices to Texas (can I come?), but will be shipping all new orders out in August. Worth the wait!